MCT-TTT: Microsoft Certified Trainer
Enroll Today!
Become MCT Certified with PrepMasters' Train-the-Trainer!


To qualify for MCT certification you must provide evidence of outstanding instructional skills. Develop the world-class trainer skill-set necessary to be a successful MCT.
This Train the Trainer course fulfills Microsoft's MCT Instructional Skills requirements for Microsoft Certified Trainers. Upon completion receive the MCT Approved Instructional Skills Train-the-Trainer Certificate. The course is designed for novice and seasoned trainers alike. We give you the instructional expertise to soar to the top of your field as a Microsoft Certified Trainer!
Prepmasters MCT TTT Certification Workshop (133.97 K)
Prepmasters MCT TTT online certification (0.97 M)
MCT-TTT 2-Day Workshop
Learn world-class training skills in our class. The class includes a complete trainer skill set for beginning and advanced trainers. You will then film a 20 minute video to accelerate your skills and become a certified MCT trainer!
Microsoft approved Train-the-Trainer Certification for the Microsoft Certified Trainer.
Workshops fill up fast. Enroll TODAY!
MCT-TTT Distance Learning Programs
If you can't travel or prefer to work at your own pace, PrepMasters offers distance learning programs for the MCT Certification.
The MCT-Train-the-Trainer Online Learning program allows you to receive the same Microsoft Approved Train-the-Trainer Certification you would at the Irvine workshop - but from the comfort of your own home or office- on your own schedule.
What is a Microsoft Certified Trainer (MCT)?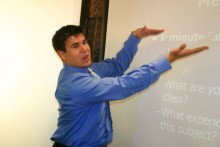 Microsoft Certified Trainers (MCTs) are the premier technical and instructional experts in Microsoft technologies. Join this exclusive group of Microsoft technical training professionals and reap the benefits of training certification and membership, including access to the complete library of official Microsoft training and certification products; substantial discounts on exams, books, and Microsoft products; readiness resources and access to a members-only online community; and invitations to exclusive events and programs. (Microsoft.com)
Upon Completion of PrepMasters' MCT Programs, you will:
Exhibit instructor expertise in the MCT classroom environment
Display highly effective MCT instructional techniques
Demonstrate instructor confidence and credibility
Motivate your participants to learn
Incorporate Key Principles of Adult-Learning
Demonstrate interactive MCT presentation and training techniques
Skillfully handle problem students
Understand adult learning psychology
How can MCT certification help you?
Increase your salary
Become a highly credible and in-demand certified technical instructor
Manage and facilitate the classroom environment with ease
Receive higher student evaluations
Increase productivity among MCT students
Excite learning among participants
How do I send my Train-the-Trainer certificate to Microsoft?
Attend PrepMasters MCT-Train-the-Trainer
Receive Prepmasters' MCT-Train-the-Trainer Certification
Complete Microsoft online application: Valid competency based certification, payment via credit card or check
All MCT submission details provided upon enrollment

This class exceeded my expectations! It was fun and educational and I will take what I learned here & execute it in the real world.
Michael Sanchez
Overseas Support
US Military
Student Video Testimonials
Navigation
Testimonials

The pre-class Student Learning Kit was wonderful!
Donna Vieweg
University of Massachusetts Lowell
Lowell, MA
I am so happy that I was sent to this training. PrepMasters has given me so many tools to use when I get back to work. The instructor was knowledgeable, patient, and perfect!
Become a Great Trainer
Best Value for Trainer Training
One-on-one coaching
Pre-Class Learning Kit (PLK)
Only 6 students per class!
TestPrep software
In-class video performance
Develop Presentation & Training skill-sets
Memorable Quote
"Live as if your were to die tomorrow. Learn as if you were to live forever."
Gandhi
Approved by…