Instructor Skills Development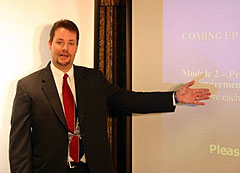 This foundation program is the stepping-stone to Professional Trainer Certification and the Master Instructor Seminar. This course disseminates key topics that will quickly and seamlessly advance your confidence and instructional expertise. Introduction to managing the learning environment, assessing student learning, engage students in active-learning, barriers to student learning, experiential learning, sensory learning styles, effective body language, instructor presentation techniques, and more. Identify, develop, and nourish instructor expertise in this hands-on seminar.
Upon Completion of the Instructor Development Program:
Identify barriers to student learning
Implement experiential learning
Develop effective body language
Demonstrate instructor presentation techniques
Cite fundamental stages of cognitive development
Exhibit instructor presentation techniques
Demonstrate instructor expertise
Who attends Instructor Development A-Z?
Corporate trainers
Professional trainers
Technical trainers
Subject Matter Experts
In-house proprietary software trainers
Everyone responsible for training delivery
Anyone who must present learning material to adult learners
College and University Professors
Curriculum Developers
Professional Instructors
Subject Matter Experts
Everyone responsible for training delivery
Anyone who must present learning material to adult learners
How can Instructor Development help you?
Reduce learning time
Increase learning to teaching ratio
Higher retention of critical materials
Overcome teacher-related learning roadblocks for your students
Increase productivity among students
SEE YOU IN CLASS!!!
Student Video Testimonials
Navigation
Testimonials
Your 3-day presentation was packed full of useful, relevant information that has had outstanding positive benefits for the students in my classroom.
Sandy Fury
Risk Analyst, UTI World Wide, Rancho Dominguez, CA
The media presentation was very professional and visually appealing. I appreciated having two large screens and many visual aids, since I have a limited attention span. The great news is that I stayed fully focused and thoroughly enjoyed the seminar. I am grateful for the knowledge I gained in the Workshop. Thank you for putting on such a well thought out and innovative seminar.
Become a Great Trainer
Best Value for Trainer Training
One-on-one coaching
Pre-Class Learning Kit (PLK)
Only 6 students per class!
TestPrep software
In-class video performance
Develop Presentation & Training skill-sets
Memorable Quote
"Live as if your were to die tomorrow. Learn as if you were to live forever."
Gandhi
Approved by…