Training Solutions
Guarantee instructor success & student satisfaction through PrepMasters Enrichment Programs. All programs are presented in a format that will meet your needs. Our programs give instructors the cutting edge skills necessary to manage the classroom environment & engage students in learning.
Onground Training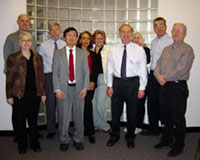 Classroom training is still the best solution for engaging the student in hands-on learning. PrepMasters instructors are Instructional Experts and provide you with the very best instruction available.
Online Training
E-learning makes learning available to all who have Internet access. This is equates to Cost Effective Standardized Training and Immediate Rollout.
Mixed Training Solutions
Online Modules + Onground Seminars = Best of Both Worlds!
Compact Disc or DVD
All prerecorded programs are offered on CD or DVD
Long-range solutions for adult learning:
Classroom Management

Develop a collaborative learning environment

Behavioral Problems in the Classroom

Handle problematic students easily

How to Gauge Student Learning

Conduct on-the-fly learning assessments

Student Involvement in Learning

Engage students in active learning

Student Participation and Motivation

Gain student respect and motivated students involvement in learning

Barriers to Student Learning

Overcome the 10 most common student complaints

Teaching to varied learning styles

Accelerate learning and increase comprehension for all learning types

Professional Presentations

Make an outstanding impression on all audiences
SEE YOU IN CLASS!!!
Student Video Testimonials
Navigation
Testimonials

From the bottom of my heart I want to thank you.
Thank you very much for all your help and instruction during my online course.
Please send my thanks to Suki Reed. Without PrepMasters I am sure that I could not get certified.
As a result of gaining my CTT+ and MCT certifications, my monthly salary has increased and is now better than ever. I couldn't have done it without you.
Mr. Do Duc Thai
CMC System Integration Corporation (CSI CORP)
Hanoi, Vietnam
Become a Great Trainer
Best Value for Trainer Training
One-on-one coaching
Pre-Class Learning Kit (PLK)
Only 6 students per class!
TestPrep software
In-class video performance
Develop Presentation & Training skill-sets
Memorable Quote
"The moment you stop learning, you stop leading"
Rick Warren
Approved by…